Time for a few powder bronzer makeup tips! Learn how to apply bronzer for the most natural look, and what my Pro Makeup Artist favorite tools and powder bronzer products are that will give you your faux glow.
This post contains affiliate links.

…
What does a bronzer do?
Bronzer is a type of makeup (most often in a powder form) that adds a bronze color to the skin.
Bronzer comes in golden bronze fleshtone colors that are deeper than a person's natural skin color. Most bronzers are not flat looking, but have a little bit of a shimmer, or light reflective quality to them.
People use bronzer to add a little more color to the skin, or to "fake a tan".
*If you aren't sure whether to use powder bronzer or liquid bronzer to begin with, read How to Fake it… Choosing Bronzer.  
*If you use liquid bronzer also and want some stellar liquid bronzer tips, then also read How to Apply Liquid Bronzer.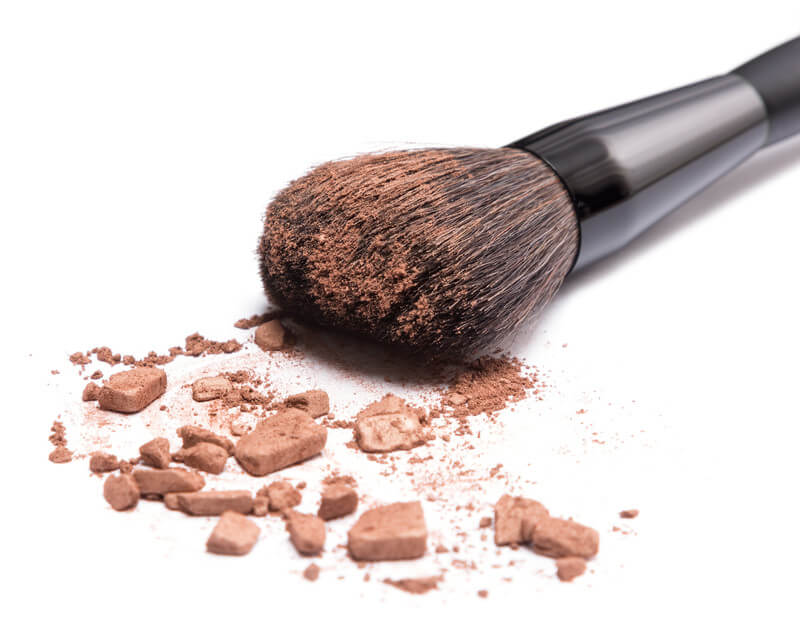 Powder Bronzer Makeup Tips
Bronzer comes in powder, liquid or cream formulas, but powder bronzer is the easiest and most adaptable bronzer you can use.
Powder bronzer can quickly be applied to both the face and body. I like to apply powder bronzer as the last step in finishing up a makeup application.
This can prevent the bronzer from looking too heavy handed.
So first, apply all of your makeup, including blush, and set with a little powder. Then, you can lightly dust on the bronzer afterward for the finishing touch.
To add bronzer to the skin, visualize where the sun would most likely tan you first, and then add the bronzer to those areas.
Sweep a little across your forehead and then slightly under your cheekbones to enhance your bone structure.
And don't forget to add a little to both sides of your neck! I also like to add a little to the collarbone, decolletage and shoulders.
To get the most "natural tan"  look, I recommend using the proper brush to apply powder bronzer.
The Best Brush for Bronzer
The best tool I have found is to use a very large loose powder brush, preferably one that is more than two inches in width at the widest part of the bristles.
I recommend the #150 by MAC for applying bronzer.
A very soft and wide brush will be the most flexible and will softly sweep the powder bronzer across your skin.
This is important, because using a brush any smaller than this can make the bronzer too concentrated and can often lead to tell-tale bronzer "stripes".
*Are you loving these bronzer tips? I created a FREE download called The Ultimate Bronzer Guide which you can print out and use when you are shopping or doing your makeup so that you don't forget anything!
The Best Powder Bronzers
I'm a big fan of using mineral makeup when it comes to powder bronzer.
The smooth application of mineral based products give a much more natural and less "powdery" effect. And after all, a subtle tan is what we are after!
My go-to bronzer is  Physicians Formula Mineral Wear Bronzer.


I like this one because it is talc-free, so it glides on easily on top of your powder without making your skin look super powdery and heavy.
I also like the Invisible Bronze by Bare Minerals.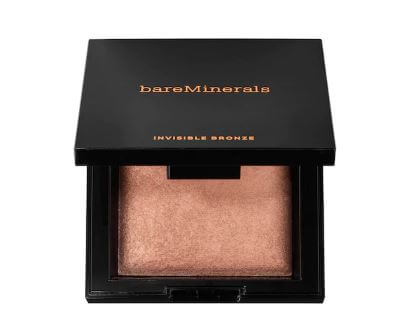 The most important thing to keep in mind when choosing a bronzer color, is that you don't want one that is too orange.
Find one in a skintone a few shades darker than your own, but with a neutral brown undertone.
And one last powder bronzer tip:
if you find that the powder bronzer that you want to use is either too shimmery or too dark, then try swishing your brush into your face powder compact first and then add a little bronzer to the bristles afterward.
This will "dilute" your powder bronzer and give you a more even application.
***For more insider tips on what makeup I carry in my professional makeup kit, check out In My Kit.
I hope these tips help! If you have any makeup questions please visit my GetGlam page, or ask me on Facebook!
And don't forget to download the FREE Ultimate Bronzer Guide below so you will have these tips whenever you need them!