Help for thin eyebrows! This two-step technique I teach on how to fill in eyebrows will give your eyebrows the most natural look.
Whether you you have thin eyebrows from gradually thinning hair, or over plucking them during your teenage years, I'm going to show you how to fix your brows and keep them on fleek.
This technique will show you how to fill in eyebrows to not only give you the most natural look, but last throughout the day as well. And wouldn't that be nice, eh?
This post contains affiliate links.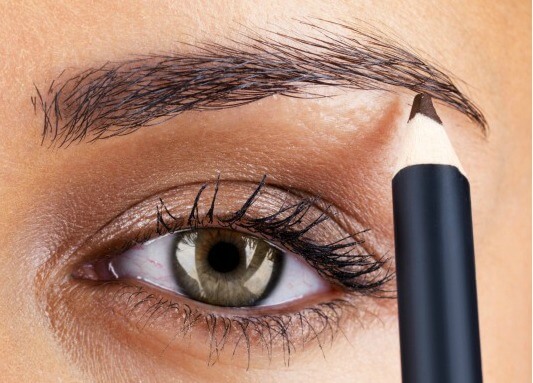 While people with fuller eyebrows can add a little eyebrow powder to their brows and be done with it, thin eyebrows require a little more work.
It's important to do these two steps, in this order, and I'm going to tell you why.
Fill in Eyebrows with an Eyebrow Pencil 
Thin eyebrows need to be filled first with an eyebrow pencil for a simple reason:  it is the wax from the eyebrow pencil that is going to adhere to your skin and stay in place.
If you are going to create an artificial eyebrow line, from where there is none, you need an eyebrow pencil in order to do it.
You simply won't get the same effect from using eyebrow powder alone because the powder won't have anything to "grip" onto.
The eyebrow pencils I recommend to use are fine tip, mechanical pencils, rather than traditional wood pencils.
The end of mechanical pencils are automatic, meaning that you twist the pencil up to reveal the fine tip end, as needed.
Having a fine tip end on your brow pencil is important, because the narrow precision of the fine tip pencil is what will fill in your eyebrows for the most natural look.
Read:   The Best Eyebrow Pencil for Blondes Is…, where I share my love for a fine tip eyebrow pencil by Maybelline.
Other companies such as MAC and Clinique make great fine tip eyebrow pencils as well.
I am currently using the Brow Wiz by Anastasia Beverly Hills.  As you can see, this pencil has a fine tip on the end of it, which you roll up as needed.

Anastasia Beverly Hills Brow Wiz
To add pencil to thin eyebrows, you want to use short, feathery strokes, beginning from the bottom inner corner of the eyebrow, working upward and outward.
Rather than trying to draw a straight line, using feathery strokes will give the illusion of adding fine hairs to the bald areas. This will make your brow look more natural instead of "drawn on".
I also use a specific Two Angle Eyebrow Technique to add the feathery strokes to my own brows. It allows me to create the right eyebrow shape while I'm looking in the mirror, and saves me time. Interested? Just click the pink box below, and I will email it to you.

While many people use just an eyebrow pencil alone to fill in their eyebrows, there are drawbacks to doing this.
Eyebrow pencils are commercially available in a narrow selection of colors. Our hair naturally (or artificially) contains different shades and highlights. This means that you most likely will not find an eyebrow pencil that is an exact color match for your hair.
Also, while the wax of an eyebrow pencil will give a great shape and structure to your brows, it will eventually smudge and wear off throughout the day like the rest of your makeup.
This is why the second step to filling in your eyebrows is to set your eyebrows with a little powder. If you like the convenience of wearing an eyebrow pencil alone, then simply sweep a little translucent powder across your eyebrows to set them into place.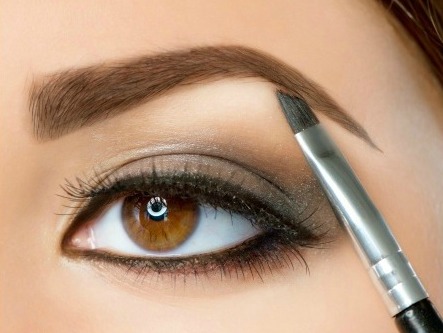 Fill in Eyebrows with Eyebrow Powder
To get a more polished look, what I recommend is to set your eyebrows with a brow powder, after using eyebrow pencil.
You can use a powder that is specifically designed for the eyebrows, or you can simply use any matte eye shadow. They all work the same way.
When choosing a shade of eyebrow powder, the general rule is that for blondes and redheads, choose a brow powder a shade darker than your natural eyebrow color. For brunettes, choose a shade or two lighter.
To add the shadow to your brows, I like to use one of my favorite brushes, the #266 by MAC.
Press the slanted edge of the brush into your brow powder. Tap off the excess powder from the brush and then press the brush into your eyebrows using the same feathery strokes as described with the eyebrow pencil (and also shown in the video).
Along with adding the right products in the right order to your eyebrows, I have a Two Angle Technique that I use when doing my own eyebrows.
It's sometimes hard to describe how I do things with words alone so I made a quick bonus video of how to fill in your eyebrows with both pencil and brow powder, and also use the correct angles as well.
Now, you have an easy two step process to fill in your eyebrows! Using these technique to fill in your brows will make your new eyebrows look more natural and last longer throughout the day.
*To find out what other makeup I recommend and stock in my professional makeup kit, check out  In My Makeup Kit.
I hope you found these makeup tips helpful. Do you have any makeup questions I can help you with? Please visit my  Get Glam page or ask me on the Glam Facebook Page!