Imagine all of your basic makeup essentials organized into an easy to use, coordinated system for getting ready. Sounds perfect, right? 
Okay, now let's think about reality.
If you are like most women, your makeup clutter is creating a small landfill in your bathroom. Your drawers of makeup are approaching hoarding status, and you don't know what basic makeup essentials you need… or where to even find them.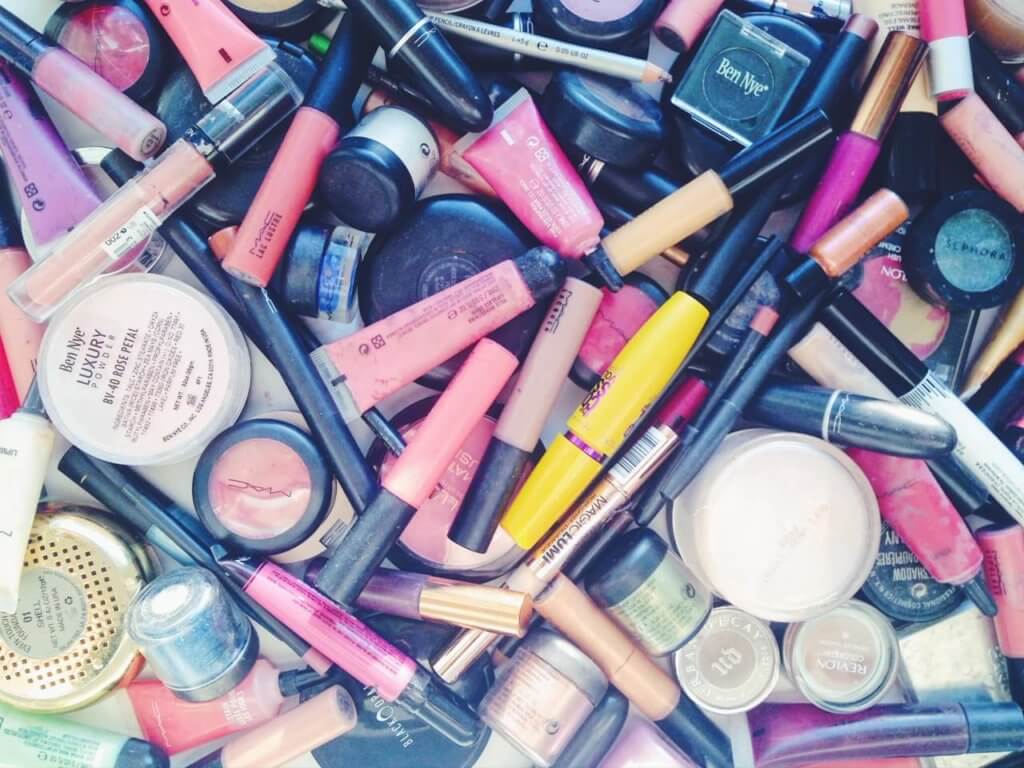 What Makeup Essentials do you Need?
As a makeup artist, I have heard the same things over the years from clients and friends. Things like:
"I have a drawer full of makeup that I don't know how to use."
"I have five lipsticks that are all the same color."
"I bought this but I don't remember how to use it."
"I never really learned how to put on makeup so I just don't do it."
"I've done the same makeup routine for X years."
Does any of this sound familiar? If you are confused about what basic makeup essentials you even need to use, then I can help you.
If you are frustrated because you waste so much time getting ready in the morning, digging through your makeup drawer to find that one lipstick… I have a solution.
I am excited to share with you my new, free email course called Create Your Capsule Makeup Collection. This FREE email course will help you build (or pare down) your basic makeup kit.
*If you want to learn which makeup must haves you need to keep in your makeup bag, read:
Basic Makeup Essentials
If you are ready to get rid of makeup clutter once and for all, then you need to create a makeup capsule wardrobe to help you condense and organize your stash.




So what is a makeup capsule collection anyway?
Well, you might have seen one of the many articles in fashion magazines about creating capsule wardrobes for your closet.
The basic idea is that you go through your closet and eliminate what no longer fits or is in fashion. Then, you create a minimalist capsule collection of only the basic pieces that you actually need and will wear.
All of your clothes are designed to be interchangeable, so you never have to worry about whether things go together or not. And as the seasons change, you just add different pieces to your minimal core wardrobe.
How to Build Your Capsule Makeup Collection
In Create Your Capsule Makeup Collection, we will use the concepts of building a capsule wardrobe and apply it to your makeup drawer.
You will learn to build your minimalist makeup kit with the basic makeup items that you need, and will actually use.
You might surprised that as a makeup artist, I am recommending you own less makeup. What? Sounds a bit out of the ordinary, right?
Well, I simply don't believe that you need to have more makeup, because most women don't.
They just need help finding out what makeup is best for them, and then how to apply it.  And that's where I come in, with a little straightforward advice and a few bad jokes (because I just can't help it).
If you would like to learn about my makeup philosophy you can read my Makeup Artist Mini-Manifesto.
Build Your Basic Makeup Kit
This free email course, full of makeup tips, will help you:
1) Reduce makeup clutter.  You will eliminate from your life (or at least your makeup bag!) what no longer works for you and create room for something new. You will pare down and organize your makeup.
2) Streamline your makeup routine. You will build a minimalist makeup collection that will simplify your morning makeup routine and make getting ready a snap. You will have an easy, reliable makeup plan that you can put on autopilot while you focus on the more important things in like, life.
3) Create your signature look. You will kick old habits to the curb and create (or update) your makeup style to reflect a modern, confident version of yourself. Your new personal makeup style will accentuate your best features and reflect where you are in your life. Boo-yah!

I know how overwhelming it can be to sort through all of the bajillion different makeup products out there. I will help you figure out what you actually need to get ready in the morning, and what you don't.
I will share my experience as a makeup artist to help you create a simple plan for your morning makeup routine. You will save time getting ready and get out the door quicker.
And once you know what makeup you really need, you will save money by not buying makeup that you don't.
Best of all, you will create your signature makeup look that will show the world the modern version of you… one that accentuates your best features and boosts your confidence.
I'm so excited to debut this series, full of the best makeup tips, so click the button below and let's do this thing!
xoxo,
Kendall
p.s. If you think any of your friends would benefit from creating their own basic makeup kit, then please share with them below!