One of the hottest makeup trends right now is electric blue eyeliner.You will find bright blue eyeliner all over the fashion runways this season. The bright blue eyeliner look has been featured at the shows of Versace, Marc Jacobs and Chanel, as well as on the red carpet by Jessica Alba and others.
But how do you wear blue eyeliner the right way? Let me help with that. Here are a few makeup artist tips on how to wear blue eyeliner, and turn this runway look into an everyday look. As a bonus, I have created the Free How Wear Blue Eyeliner Cheat Sheet for you to download!

This post contains affiliate links.
[responsive_youtube RLs4qM3TCxI  norel]
The first step I use to create this blue eyeliner look is cream eyeliner.  I use blue cream liner rather than a pencil or liquid eyeliner because I think it is really versatile and long wearing. It applies easily and smoothly, and once it dries, it lasts a long time without smudging. The cream blue eyeliner that I used in this video was MAC Chromaline in Marine Ultra.
***Since making this video, the Chromaline has been discontinued. But, no worries, you can easily substitute Jolie Luxe Creme Liner in Royal Navy.


To apply the cream eyeliner, I use a fine tipped brush and sweep the eyeliner along the lashline. You will use the same technique to apply the cream liner, as you would to apply liquid eyeliner. Use short, feathery strokes to begin with and then connect them all together to make a smooth line.
I use the #209 Eye Liner Brush by MAC. It's firm enough to grab the color and then swipe it across the lid smoothly.
(For extra tips on keeping eyeliner in place, check out Three Tricks to Keep Eyeliner From Smearing, where I go into more detail about that.)
Now if you have completed the first step and if you love the bright blue eyeliner look on its own, then you are done! But, if this blue eyeliner look is a little too 80's popstar for your tastes, then use my trick to make this a modern look:  press a little dark eyeshadow along the lashline with the #266 Brush by MAC.
I love to do this because it will define the lash line even more, and draw more attention to your eyes. While you will see the blue eyeliner peeking through, it will be a little softer and more refined.
You can use any dark eye shadow to deepen the lash line color. I used Mahogany by Bobbi Brown. This is one of my all time favorite eye shadows for creating eye liner.
*** For more insider tips on what I use in my professional makeup kit, check out In My Makeup Kit.
Want to create this look at home? Perfect! I have created the How to Wear Blue Eyeliner Cheat Sheet just for you! Click on the link below to download it and refer to later when you are doing your makeup.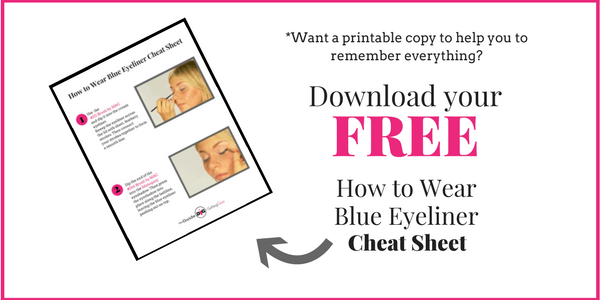 I hope these makeup tips help! If you have any makeup questions, please visit my GetGlam page, or ask me on my facebook page: @GuideGetGlam.