The cat eye is one of the hottest makeup looks going. It gives a classic Hollywood vibe with a modern sensibility, and is a little more user friendly than doing a full on smoky eye. I'm going to give you a couple of makeup artist tips to make your cat eye look a bit more polished and stand out from the crowd.
When doing a cat eye, we extend the eyeliner horizontally past the natural end of the eyelid. Best practice is to go outward and up a little with the eyeliner to extend the eye. This widens and lifts the appearance of your eye shape.
For a cat eye to really stand out, its not about making the eyeliner thicker or longer, but accentuating the makeup around the eyes to draw attention to both your eyes as well as your bone structure. Here are three steps to pull focus to your feline line: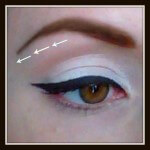 1) Extend Your Eyebrows. The first step in boosting the appearance of your cat eye is to lengthen the outer line of your eyebrows. Use an eyeliner pencil to draw the brow outward, a little farther than you might normally do for your everyday makeup. This will create a nice frame for the eye and add a little sophistication to the overall look.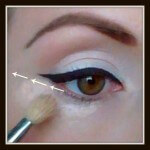 2) Highlight your cheekbone. I recommend using a concealer a shade or two lighter than your skin tone for this. Visualize an imaginary line from the end of your eyeliner all the way to your hairline, and then add the concealer underneath this line, extending down on top of your cheekbone. I also like to set the concealer with a little mineral powder, also in a shade lighter than your skintone. This will help to set the concealer and further highlight your cheekbone.
3) Darken the outer crease of your eye. I like to add a little extra pop to the outer corner of a cat eye by adding a dark shadow to the outer part of the crease. This works best by using a brush with a fine point on the end. It will give you a little more precision, as you can dot the eyeshadow exactly where you want it, and then blend it together.
I hope these makeup tips help you to achieve that sexy cat eye look! If you make any mistakes when trying out this new look, check out my article  Oops! Best Quick Makeup Remover for a quick fix.
Do you have any makeup questions I can help you with? Please visit my GetGlam page, or tweet me @GuideGetGlam!