As a makeup artist, one of the questions I am asked most frequently asked is how to keep eyeliner from smearing.
I know what a drag it is to work so hard to do your makeup in the morning and have it smudge, smear and disappear by the afternoon. So let me help with that.
Here are three tricks to keep eyeliner from smudging and smearing. Plus, I have created the FREE How to Keep Eyeliner From Smearing Checklist for you to download!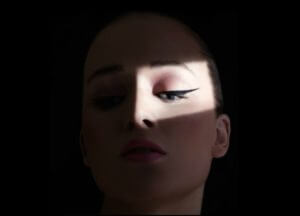 1) Choose the best smudgeproof eyeliners.
So, you have oily eyelids? Yep, I get it. Me too.
When you have oily eyelids, you have to choose the best smudgeproof eyeliner for oily eyelids.
This may sound obvious but not all eyeliners are created equal. Whether you prefer pencil or liquid formulas, make sure to buy eyeliners that are advertised as "long wearing" or "smudge resistant".
Because here's the thing… if you don't buy eyeliners with "long wearing" promises, it's really a gamble to see how long they will last.
One of my favorite makeup tricks is to use cream or gel eyeliner on the eyes. I find cream eyeliner to be very versatile as well as long lasting.
For tips on how to apply cream eyeliner, check out my makeup tutorial How to Wear Blue Eyeliner. This video shares lots of great tips for applying cream eyeliner, even if the blue eyeliner look is not your thing!
[responsive_youtube RLs4qM3TCxI  norel]
And as far as the best smudge-proof eyeliner pencils go, I recommend two that I have found work the best. The first is Urban Decay 24/7 Glide on Eye Pencil.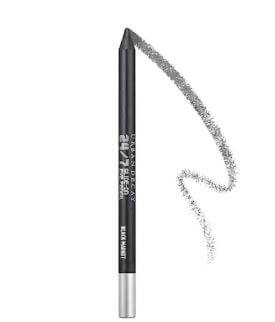 Urban Decay 24/7 Glide on Eye Pencil
The other smudge-proof eyeliner I recommend is the Make Up For Ever Aqua XL Eye Pencil Waterproof Eyeliner.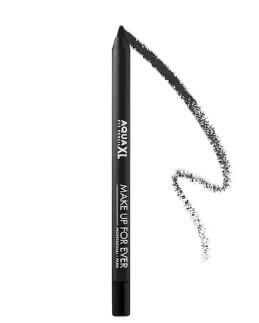 Make Up For Ever Aqua XL Eye Pencil Waterproof Eyeliner
Also… avoid, avoid, avoid kohl eyeliners at all costs. Soft kohl eyeliners are fantastic, but will always create smoky eyes, whether you actually intend to or not!
Will waterproof eyeliners last? Absolutely.
** If you are loving these long-wearing makeup tips, you might LOVE my online makeup class, Velcro Makeup. In Velcro Makeup I will teach you my makeup artist secrets of how to do your makeup once and have it last all day.
2) Set the under eye area with powder.
The thin skin under the eye area tends to be a bit oilier than other parts of your face. This natural oil will break down eyeliner fairly quickly if you don't "mattify" it with a little powder.
I recommend using a small, fluffy brush to sweep a little powder under your eye, prior to adding eyeliner. This will create a matte texture on the skin,  which will help grab the eyeliner and keep it in place.
I recommend using the MAC Cosmetics Blot Powder. It is super lightweight and oil absorbing, so it's the best powder to use underneath the eye area. It won't be too heavy for the delicate skin there, or settle into fine lines.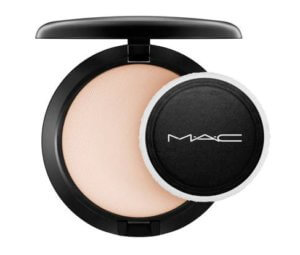 *** To get more insider tips on the best longwearing makeup formulas and how to apply them, check out Velcro Makeup.
Also consider what kind of under eye concealer you might be using. Cream concealers are emollient based and keep more moisture at the surface of the skin. Too much moisture on the skin is the enemy of long wearing makeup!
Instead, try switching to a liquid or water based concealer underneath the eyes. As water based concealers dry on the skin, the moisture evaporates.
This makes the concealers longer wearing and more smudge resistant. By having a nice matte surface under the eyes, this will add to the staying power of your eyeliner.
3) Apply eyeshadow on top of eyeliner.
After applying eyeliner, add an eyeshadow of a similar color on top of your eyeliner to  "set" it. Use a very small brush and press the shadow into place.
This will add maximum staying power and will keep eyeliner from smearing. If you don't have an eye shadow of a matching color, a little translucent powder will work as well.
Want to have a free downloadable checklist to help remember all of all of these tips? Perfect! I created one for you, just click the picture below.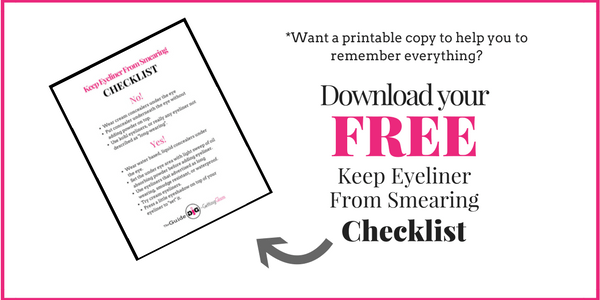 I hope these three tricks will help you to keep your eyeliner from smearing! Do you have any makeup questions that I can help with? Please visit my GetGlam page or ask me on Facebook: @GuideGetGlam
*Did you like this article? If so, I would love it if you would share it with your friends below!