Want to learn how to do your makeup, step by step, like a Pro? Of course! And here's how you can do it…
Makeup lessons with my brand new online makeup class! Anywhere, anytime, on your device. Boom!
Wanna hear more?
I've got something brand new that I've been working on behind the scenes.
Something I created after hearing the same things over and over again from my clients, family and friends.
Does any of this sound familiar?
I have a drawer full of makeup that I don't know how to use.
I bought some makeup brushes but I have no idea what to do with them.
I never learned how to do my makeup and I don't know where to start.
I liked how she did my makeup at the store, but there's no way I will remember how to do it.
I'd like to try something new with my makeup but I don't know how, so I don't even bother.
After getting this feedback from so many women over the years, I am now fully aware of the need out there for a little direct makeup advice.
It's one of the reasons I created my free email course to Create Your Makeup Capsule Wardrobe.
Because…  I understand how maddening it is to try to figure out which makeup products are right for you… out of the thousands to choose from.
I know how frustrating it can be when you just can't seem to get your liquid eyeliner to look right.
Or when you have your makeup done by someone else and it's too heavy, or it just doesn't look like you.
And I know that most of you just want simple, straightforward makeup advice. You want to know how to do your makeup quickly and look your best, without spending an hour in front of the mirror.
Because ain't nobody got time for that.
[responsive_youtube UsC74eXAgsc  norel]
Learn how to apply professional makeup on yourself
Growing up, many of us learned how to apply makeup from family or other girlfriends.
My first makeup artist steps were taken after reading fashion magazines and using Crayola markers on my Barbie dolls. (And their makeovers were EPIC, I tell you!)
But some women never learned how to put on makeup. And others still wonder am I doing this right? I've been doing this for X years, is there a better way?
So, I've decided that there needs to be… a better way.
We need to mix things up a little. We need a new framework so that girls and women have the option to learn how to apply makeup at home.
Not through random online videos here and there, but a system for learning how to apply makeup, taught by a makeup artist (that would be me).
Introducing… Makeup Lessons with Glam Bootcamp.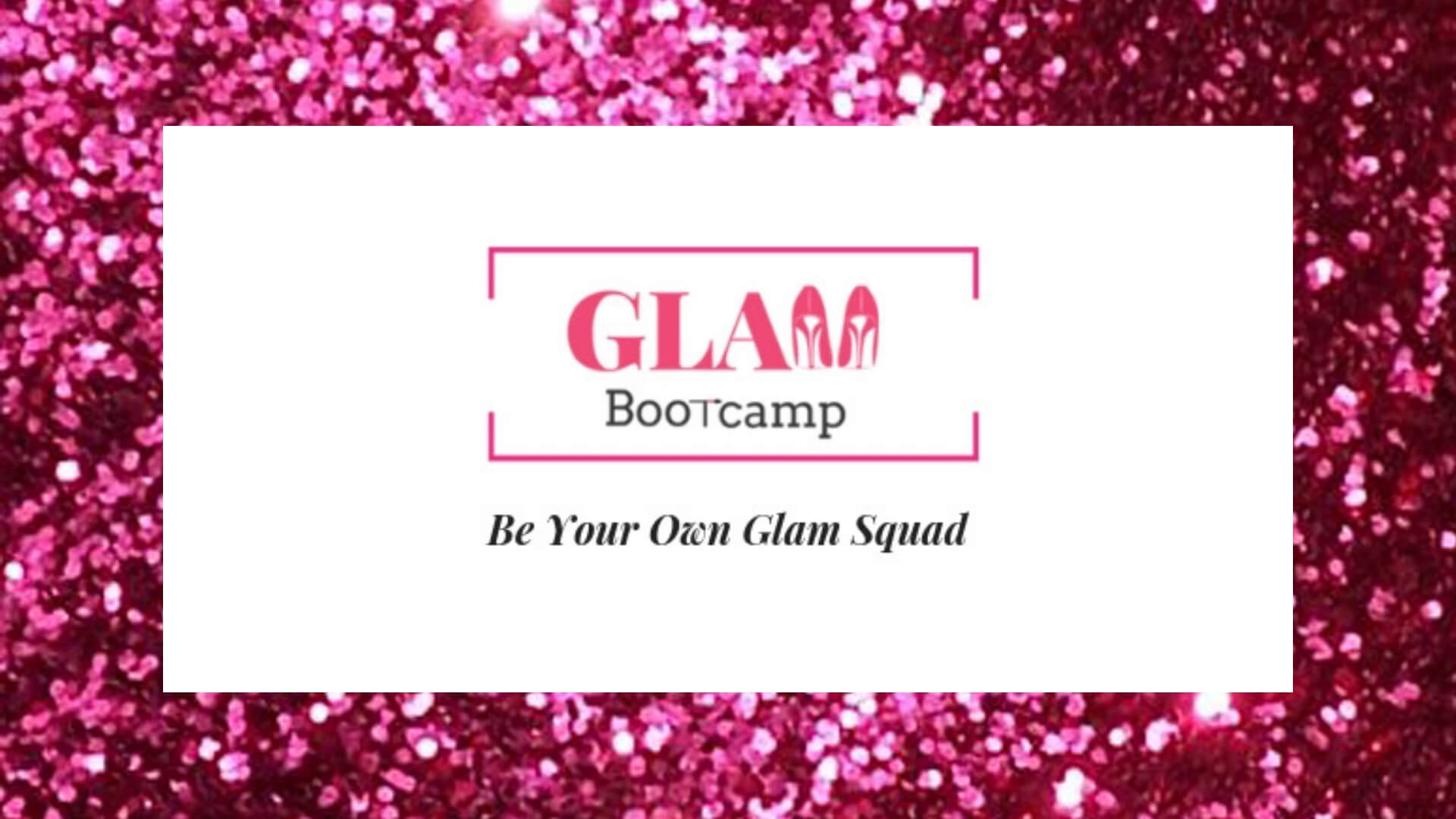 Say whaat? Tell me more…
Glam Bootcamp is an online makeup class that will teach you how to do your makeup like a Pro.
As a makeup artist, I have applied makeup to thousands of people over the years. I have learned from some of the most talented mentors, and I have developed and refined my own techniques.
My view is that makeup does not have to be complicated. I believe that there are 5 Key ways to improve your makeup skills and I cover them all throughout this course.
Here at The Guide, I mostly write about makeup tips with some demonstration videos sprinkled in. This online makeup class is different. I dig deeper and get more specific. And I teach you how to do the techniques.
How to Apply Makeup, Step by Step
Glam Bootcamp  gives you an organized plan. And its full of makeup artist secrets and shortcuts to take some of the mystery out of makeup application.
It's broken down into 9 modules of makeup lessons that cover each area you need to know about… face, eyes, cheeks and lips.
And, it can be watched on your mobile device, in your powder room so that you can practice along.
This online makeup class is  jam packed with 22 videos where I teach not only what are the best makeup tools you need, but step by step instructions for how to use them.
And, it's completely self-study, so you can learn at your own pace.
Boo-ya!
And if you would like to preview one of the videos to the course, just click the pretty pink button below: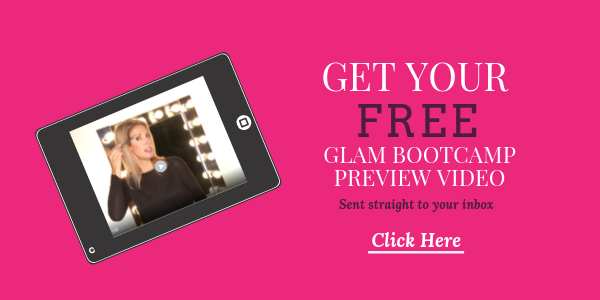 Wanna know what's inside the course? You bettcha, here's a sneak peek into all of the great things you get with this class: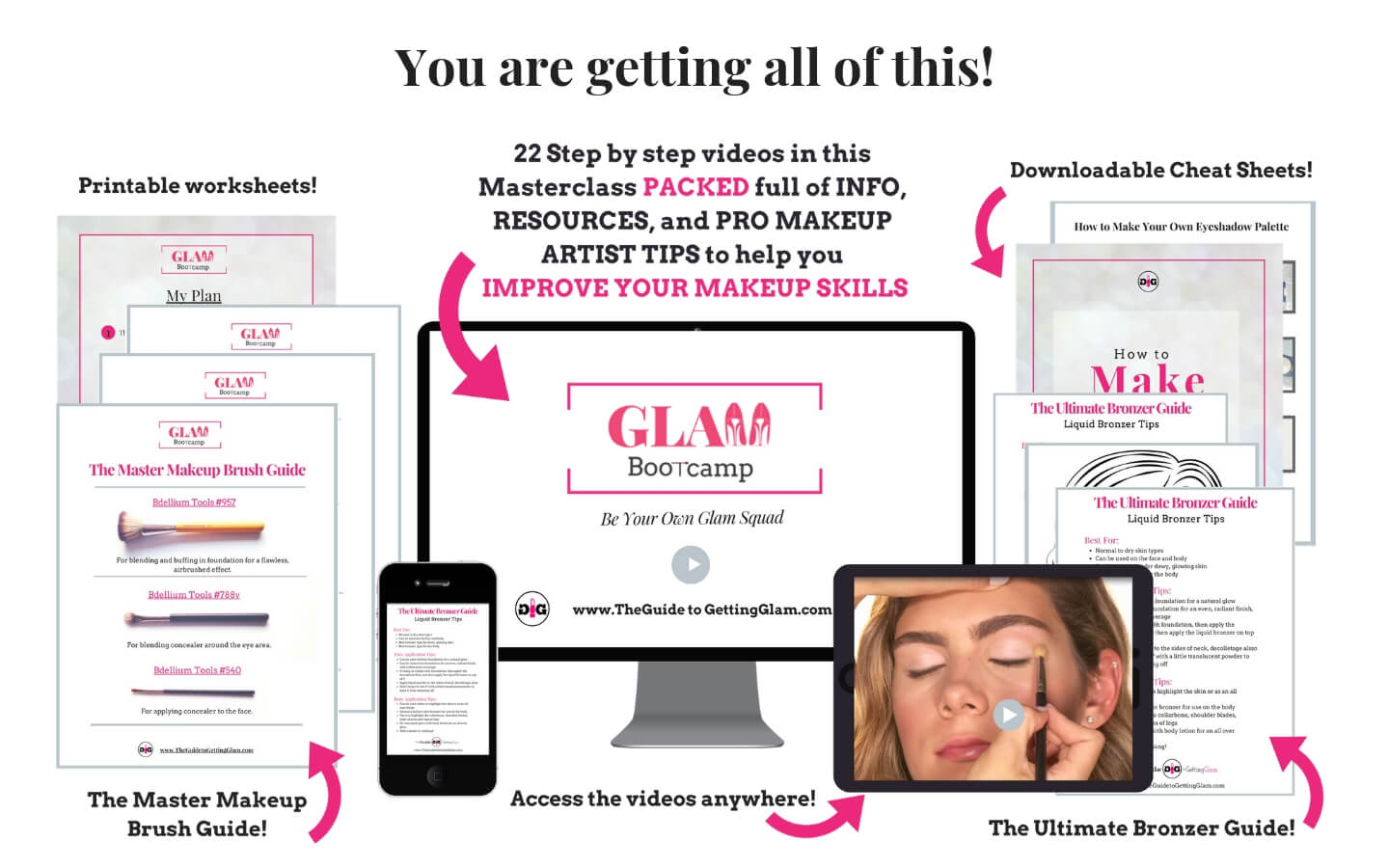 Learn the makeup techniques to do your makeup like a Pro
The game plan here is for you to never again have to pay someone else to do your makeup. And to also not wonder if you are doing your makeup right, or not know how to amp it up for a special occasion.
In Glam Bootcamp, I will teach you to be your own Glam Squad.
You will save time  getting ready in the morning because you can put doing your makeup on autopilot.
You will save money  by not paying someone else to do your makeup for special occasions. Or buying cosmetics that you don't really need (and probably won't use).
Because the great thing here is, that once you have learned and practiced the techniques, the makeup itself becomes interchangeable.
When you know the correct makeup techniques, you can look at the makeup from your favorite celebrities or red-carpet moments and figure out how to re-create them on yourself.
Because my philosophy is that most women don't need more cosmetics, just more guidance in how to use them.
Best of all, you will have the confidence that comes with knowing how to create a beautiful makeup application every day, and also have the ability to turn up the volume for date nights/weddings/reunions.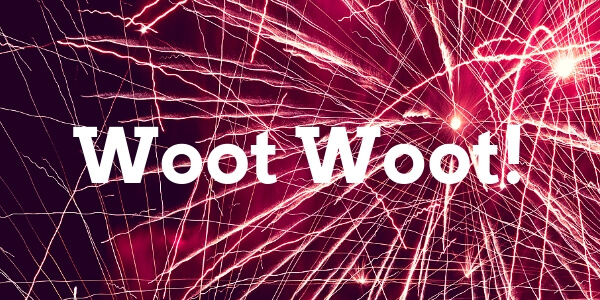 Be Your Own Glam Squad
The feedback I've gotten about the course so far has been outstanding! My clients have told me they LOVED Glam Bootcamp!
And I know you will too, because I created it just for you.
Whether you are a:
makeup beginner who wants easy instruction and quick results
a professional who wants to create a more polished makeup look
a busy mom who wants to get her mojo back
This makeup class will help you, wherever you are right now. Because it was created for women of all ages and stages of life.
Regardless of your skill level, you can get fast results from practicing the makeup techniques that I teach. It's like having a makeup artist in your powder room with you, coaching you along the way.
So, are you ready to unleash your inner makeup artist?
Glam Bootcamp is now LIVE, and you can enroll right now! If you click on any of these links to this online makeup class, you can select the plan that works best for you and get started tonight!
It's that easy. You can start learning my 5 Keys to creating beautiful makeup and improve your makeup skills right now.
Glam Bootcamp will take your morning makeup routine to the next level, helping you refine your makeup skills. You will learn easy makeup tips that will help you get ready faster and make your makeup more polished and longer-wearing.
100% Satisfaction Guaranteed.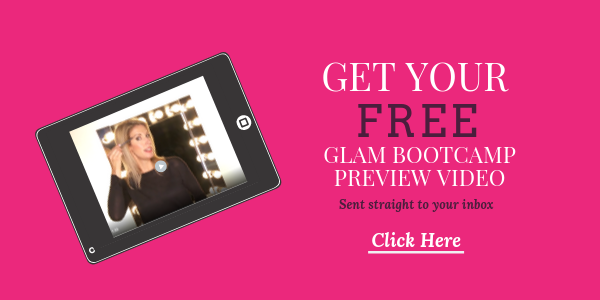 If you have any questions, please email me: Kendall@TheGuidetoGettingGlam.com. I would love to hear from you!