The orange lip is one of the hottest looks for Spring/Summer 2014. Here is a quick makeup tutorial on how to wear the orange lip trend.
The orange lipstick trend was seen on the runways of John Galliano, Rag and Bone, and others. Wearing this super hot orange lip look is a bold choice, so here are some makeup tips on how you can pull it off.
Watch this makeup tutorial as I show you what makeup tips you need to know to rock an orange lip!
This post contains affiliate links.
The orange lip is a very bold choice for makeup and will certainly draw attention.
As a makeup artist, whenever I apply a strong lip color on someone, I always start with that feature first. Begin with the dominant feature you are creating… whether it be a bold lip or a smoky eye, and then build the rest of your makeup around that feature.
This allows you to customize your makeup around the bold feature you want to draw attention to. It makes sure that the rest of your makeup is customized to go along with your orange lip, and doesn't fight for attention.
When applying a strong lip color, first apply a little of your foundation and powder to your lips. This will help create a matte texture on your lips and keep the lipstick from feathering and moving throughout the day.
I always use a lip liner first to create a bold lip color. The lip liner I used here was Orange Red by Makeup Forever.  It's part of their aqua line, which is a long wearing, waterproof formula.


The orange lipstick I used was Saigon Summer by MAC. I used a lip brush to apply the lipstick with short, feathery strokes. This allows the lipstick to blend into the lip liner color better, and you end up using less of your lipstick that way.
MAKE UP FOR EVER Aqua Lip Waterproof Lipliner Pencil • Make Up For Ever • $20
">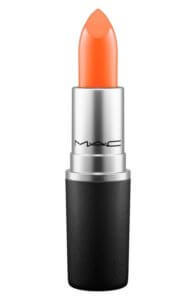 I hope these tips help! If you have any makeup questions, please visit my GetGlam page, or ask me on The Guide to Getting Glam Facebook Page.
And if you liked these makeup tips, I would love it if you would do me a solid and share it with your friends with the links below!