Smoky eye makeup does not have to be complicated and time consuming! Today I want to show you how to do a quick smoky eye in just three easy steps.
My technique uses only three makeup products, so you can quickly create your smoky eye and be out the door! Here are my makeup artist tips on how to do a quick smoky eye.
And, to make it super easy for you to try this at home, download this Quick Smoky Eye Cheat Sheet I created for you!

This post contains affiliate links.
I used a cream eye shadow as both the base and primary color of this smoky eye look. If you want to know more about the many great reasons to use potted cream eye shadows read How to Make Eye Shadow Last all Day for more makeup tips.
So to recap the three step smoky eye technique:
Blend a cream shadow from the lash line up to the crease of the eye, and underneath the eye as well
Smudge a kohl pencil upward from the lash line on to the eyelid, and underneath the eye.
Add powder shadow on top of everything to finish and "set" the look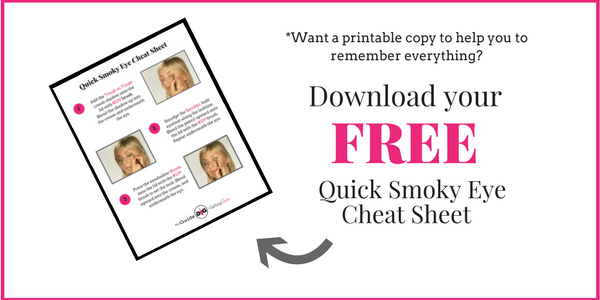 Curious about the products I used? The cream eye shadow I featured today in this quick smoky eye was Tough as Taupe by Maybelline.
The kohl eye liner that I used was Smolder by MAC .
And the eye shadow was Strada by Nars.
*** You can also get my insider tips on what makeup I stock my professional makeup kit with at In My Makeup Kit.
I hope these tips help! If you have any makeup questions, please visit my Get Glam page, or ask me on my facebook page: @GuideGetGlam!