What is the secret to making eye shadow last all day long? I have a makeup tip to share with you that will make your eye shadow stay all day. For real. It's going to make your eyeshadow look as fresh in the evening as when you first applied it in the morning.
*This article contains affiliate links.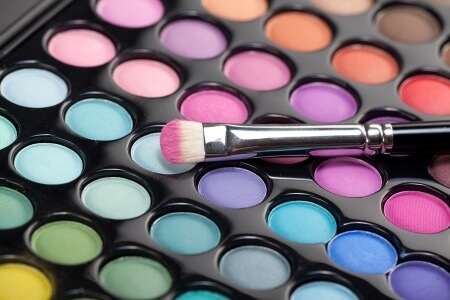 Trying to keep eyeshadow and makeup from wearing off is one of the toughest makeup challenges. And, because our skin secretes oil through our pores throughout the day, it's kind of inevitable.
I feel your pain. It's a total drag that the eye shadow you so carefully applied in the morning will crease and wear off by mid afternoon.
There are some traditional solutions for this problem… using an eyeshadow primer before applying eye shadow is one of them.
You can also try adding concealer and powder to the eyelids before applying makeup.  This will help a little, but I have yet to discover that any of these fixes actually work.
So I usually don't even bother.
What I use instead is a product that makes eye shadow last all day long, and one that I have raved about for years to all my clients and friends.
My secret is…  the MAC Paint Pots. In fact, I rarely, if ever, apply eye shadow on someone without first using this product to prep the eye area.
Because I don't like to waste my time and I'm sure you don't either.
The MAC Paint Pots are cream eye shadows, similar to their sister product, the MAC Paints. You can use them as a base for your eye shadows, or you can wear some of the more dramatic colors on their own.
But unlike other cream eye shadows which crease and fade, the MAC Paint Pots and Paints will last.
This is because they start as a cream and then dry down to a powder finish. After that, they aren't going to move around at all.
They are the best primer for eye shadow that I have ever found and one of my favorite makeup products.
Ever.

Since the paint pots come in many different colors, I suggest using one in a color that is near your own skin tone. You can then press any powder eye shadow on top of it.
The paint pot will grab the powder eyeshadow and lock it in place, keeping it from creasing.
The added bonus is that the paintpot will actually make your powder eyeshadow even more vivid.
To show you how to apply the cream eyeshadow, I have created a bonus video that shows my cream eyeshadow feathering technique. This video shows you how to quickly and seamlessly apply the cream eyeshadow, so just click on the button below:

To apply the paint pot, I recommend using a firmer, flat shaped brush like the #239 by MAC. These is the best brush for the job because it can easily apply both the cream and powder eyeshadows.
I like this particular brush because even though it has firmer bristles to grab the cream shadow, the ends are soft and tapered so you can blend the cream onto your eyelid without the bristles of brush becoming stiff and poking you in the eye.

First, dip your brush into the cream shadow and apply the cream to your eyelid first. Start at your lash line and then blend upward. You want to cover the entire eyelid and then feather the paint pot out into the crease of your eye.
Then, you can apply your powder eye shadow directly on top of the cream base. The paint will grab your eye shadow and make it last all day. After trying this, you might have a favorite new makeup product on your hands.
To see what other favorites I stock my professional makeup kit with, check out In My Makeup Kit.
And don't forget to download the video. Seriously, it will help explain things even more!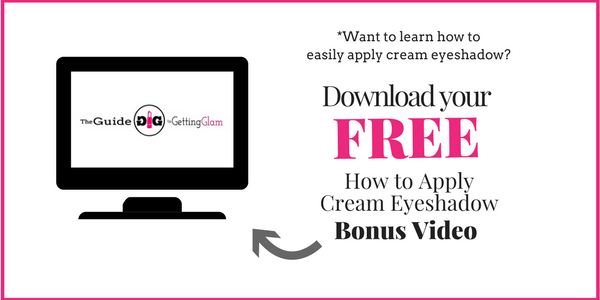 I hope this makeup tip helped! If you have any makeup questions, please visit my GetGlam page, or hit me up on my Facebook page!
And if you liked this makeup tip, I would love it if you would share it with your friends below!